ONE-ON-ONE ATTENTION
FROM A COMPASSIONATE
INJURY ATTORNEY
Never get handed off to paralegals.
All cases are handled by our experienced attorneys.
Over $7,475,000 recovered for clients in 2017 alone!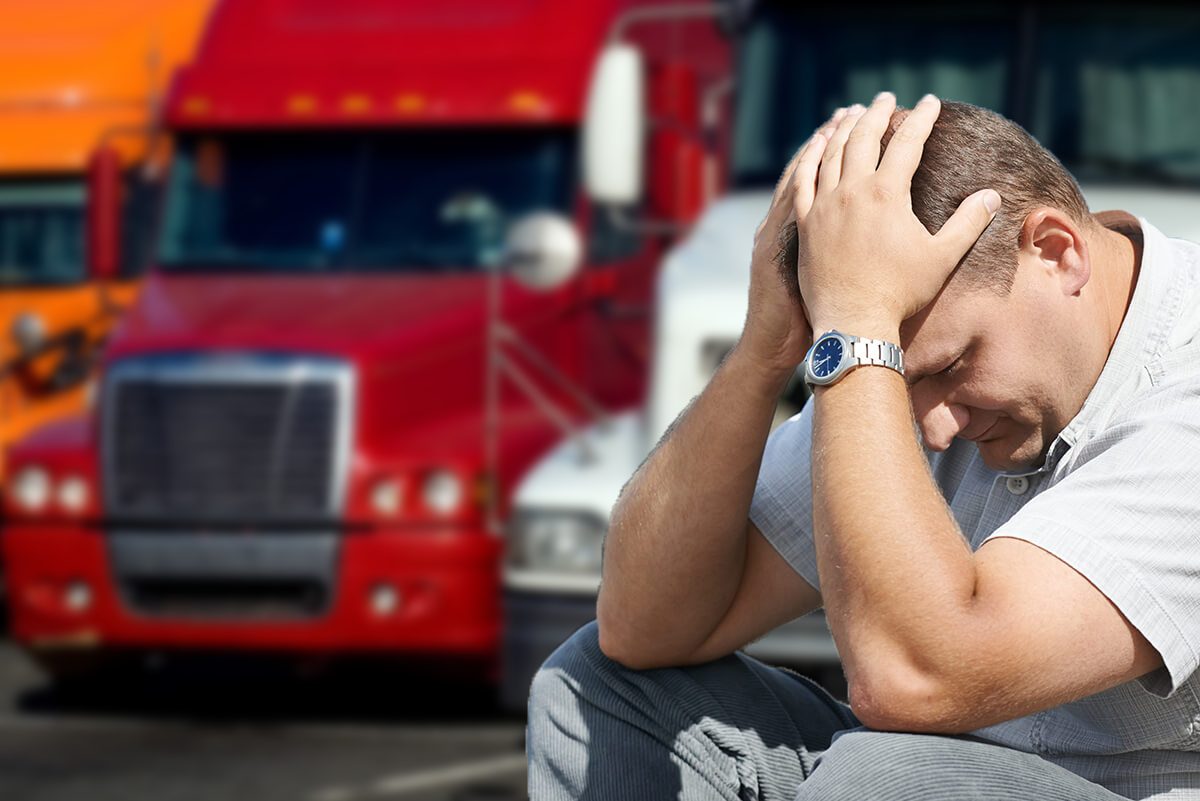 Truck Accident Injury Lawyer in Oceanside
Camp Pendleton Truck Accident Lawyers
If you or a loved one have been injured in a commercial trucking accident around Camp Pendleton you need a truck accident attorney.  Every insurance company looks after only their own interests, and you'll be dealing with more than the truck driver.
Commercial Trucking Accidents
In the United States trucking is a $250 billion per year industry with 3.5 million tractor-trailer operators.  So it shouldn't be surprising that in just one recent year there were some 77,000 injury accidents involving large trucks (2012, as reported by the Federal Motor Carrier Safety Administration).  And given that commercial trucks can weigh as much as 80,000 pounds (versus a passenger vehicle at around 4,000 pounds) it's also not surprising that there were some 3,900 fatal accidents.
With heavy cargo, large commercial vehicles are slow to accelerate, slow to stop, and can jackknife or skid with a sudden turn.  Regulations limit the hours truck drivers can work and require specific rest periods, but with the pressures of money and time many drivers break the rules.  They may continue to drive while fatigued or during unsafe weather, ignore road conditions, speed, and even take drugs to stay awake.  Truck accidents can also be caused by mechanical malfunctions and improper loading.
You Pay Nothing Unless Compensation is Recovered!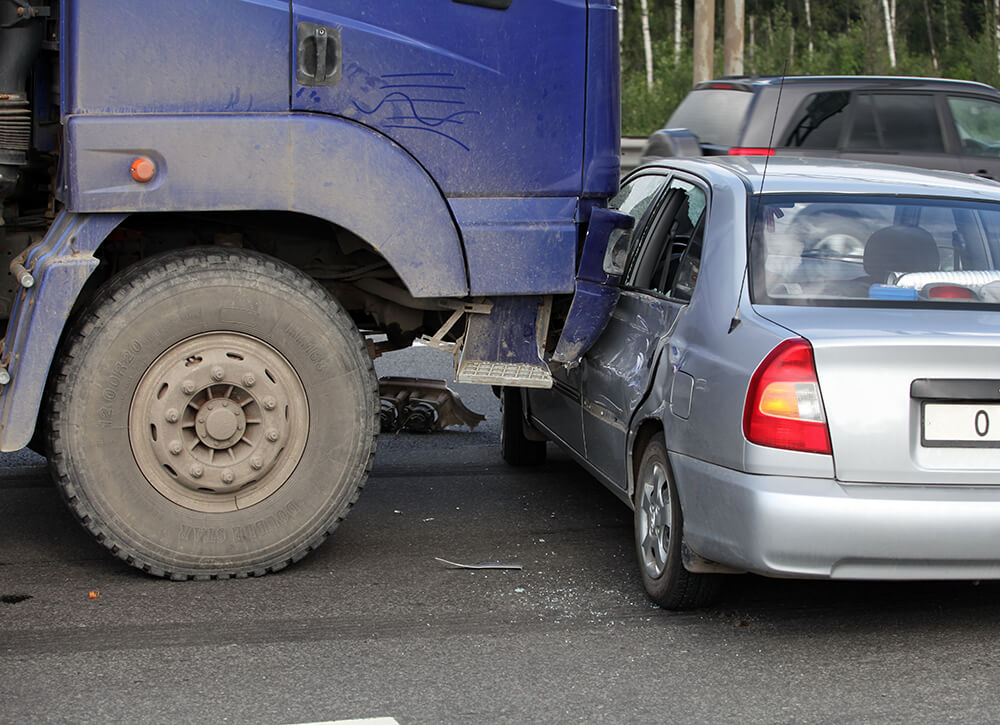 Your Rights and How To Protect Them
As you might expect, after a personal injury you have the right to compensation for your medical bills.  And you may have heard about settlements including punitive damages and monetary compensation for mental anguish and emotional duress (pain and suffering) in trucking accidents involving negligence.  In nearly all situations your rights also include recovery of the costs of physical therapy, modifications to your home or vehicle, and lost wages as well as compensation for lost earning capacity and any permanent disability.  In the case of a fatal accident certain surviving family members also have the same recovery rights.
But you're all but certain to need a truck accident attorney to receive the full compensation you deserve, and quite frankly probably need.  Payments usually come from insurers.  Insurance companies are obligated to put their shareholders interests first.  They have deep pockets and years of experience on their side.  That means dozens of adjuster and legal defense strategies, and downright tricks.
Liability may also lie with the trucking company, vehicle owner, truck manufacturer, and/or loading company.  Even inspectors and road-work contractors may be potential defendants in a truck accident case.  Each of those entities, including your own insurance company, is out to put the blame elsewhere.  So you'll need an experienced accident lawyer to win your case, whether in negotiations outside of a lawsuit or in the courtroom.  For full recovery, it's necessary to prove liability, and then prove that your injuries were a direct result of someone not exercising reasonable caution.  So there are a few important first steps that need to be taken to protect your rights.
Seek medical help immediately to determine, document, and treat the full extent of your injuries.
Make sure that a Camp Pendleton police report was filed with the Provost Marshal's office.
Notify your own insurer that an injury accident occurred.
Make written notes of as many details as you can remember.  Keep a notebook or piece of paper with you so you can jot down things as they come to mind.
Retain a trucking accident injury attorney.  Until you've consulted with them

Do not discuss liability or settlement with anyone.
Do not sign any statements or other paperwork.
Do not accept any form of payment.  There's usually a catch that blocks any other claims.
WE FIGHT TO WIN FOR YOU
OUR RESULTS
Russell S. Kohn and Suzanne Skolnick Attorneys Kohn and Skolnick represented a 60-year-old man in an under insured motorist claim against Farmers. After reduction for the worker's compensation benefits and the third party recovery, Judge Hoffman's net award totaled $520,000.
Our Recent Wins
Featured Case Results
UNDERINSURED MOTORIST
The Skolnick Law Group
Call us for a free consultation.  We're just 15 minutes from Camp Pendleton and to accommodate your schedule we take evening and weekend appointments.  With our proven track record of protecting the rights of victims and their families, you pay us nothing unless we recover you compensation.
Choosing the Skolnick Law Group you'll work directly with an attorney who has experience in truck accidents.  We'll investigate the accident and interview witnesses, building a case on your behalf.  We'll push for a fast and fair settlement through negotiation, and when necessary, file a lawsuit and prosecute your case in court.
Camp Pendleton History
The base was named after Major General Joseph Henry Pendleton, a long-time advocate of a west-coast Marine Corps training base.  Camp Pendleton was first established as a temporary training camp in 1942 with amphibious communications, amphibious tractor, beach battalion, and medical field schools.  It was declared permanent in 1944, and became the home of the 1st Marine Division in 1946.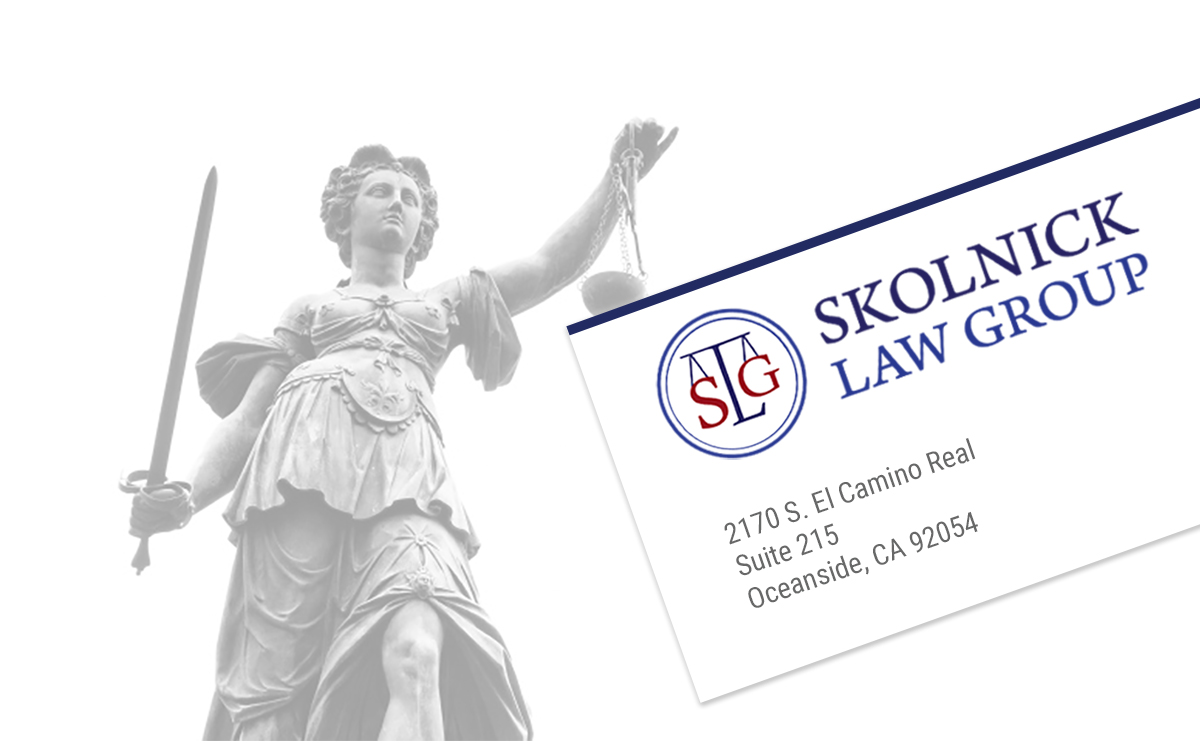 Request a free consultation to get started.