ONE-ON-ONE ATTENTION
FROM A COMPASSIONATE
INJURY ATTORNEY
Never get handed off to paralegals.
All cases are handled by our experienced attorneys.
Millions of dollars recovered for our deserving clients!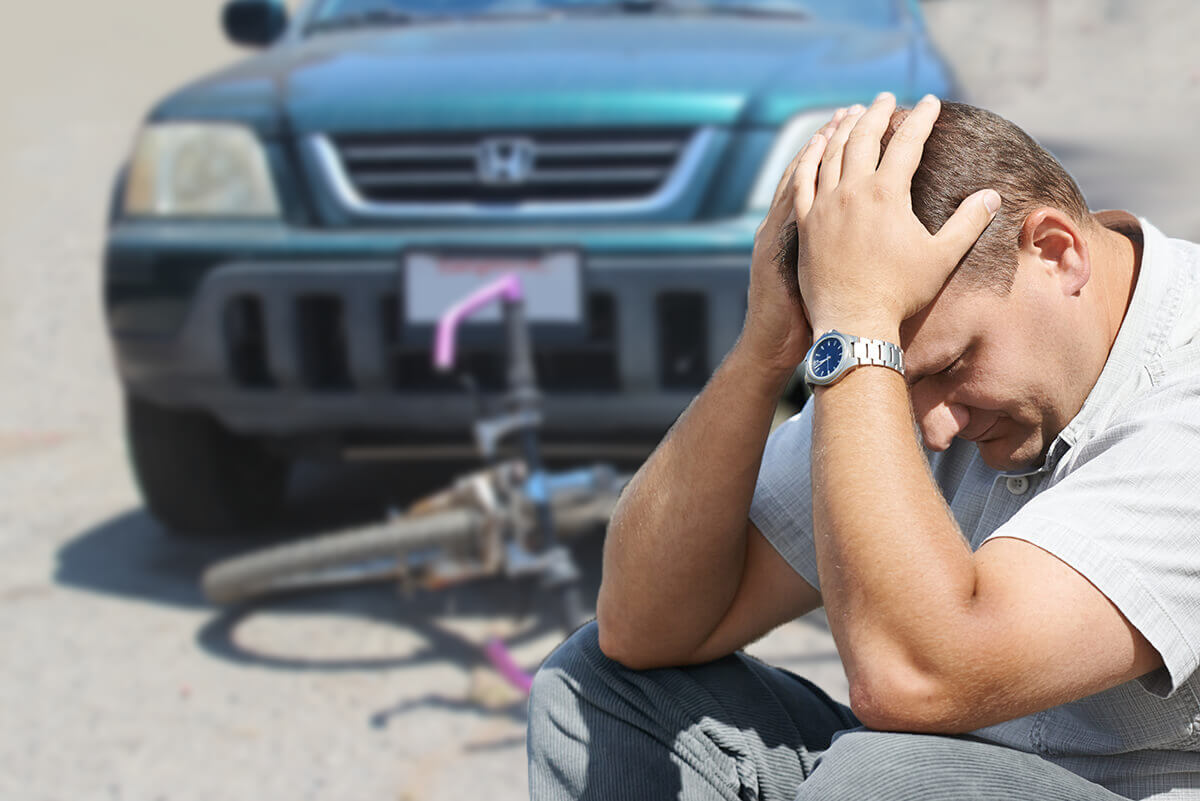 Accident Injury Lawyer in Oceanside/Carlsbad
Pedestrian and Bicycle Accidents
Bicycle and pedestrian accidents involving a vehicle often involve serious injuries.  Although most motorists are genuinely concerned, when it comes to a settlement, their insurance companies take over.  A bicycle accident lawyer recognizes the situations where the driver is largely or entirely at fault even if the bicyclist wasn't strictly following the rules of the road .  The same goes for pedestrian accident lawyers with someone who failed to use a crosswalk (jaywalked) or ignored a walk/don't-walk signal.  When a vehicle wasn't involved, you still deserve compensation if an un-maintained walkway, parking lot, or road way was to blame.  Your personal injury lawyer will look after your best interest, which is important when the insurance company is looking after theirs!  Practicing in North County San Diego including the cities of Oceanside, Carlsbad, San Marcos, Encinitas, Vista, and Escondido, we work hard to protect your rights to fair compensation.
You Pay Nothing Unless Compensation is Recovered!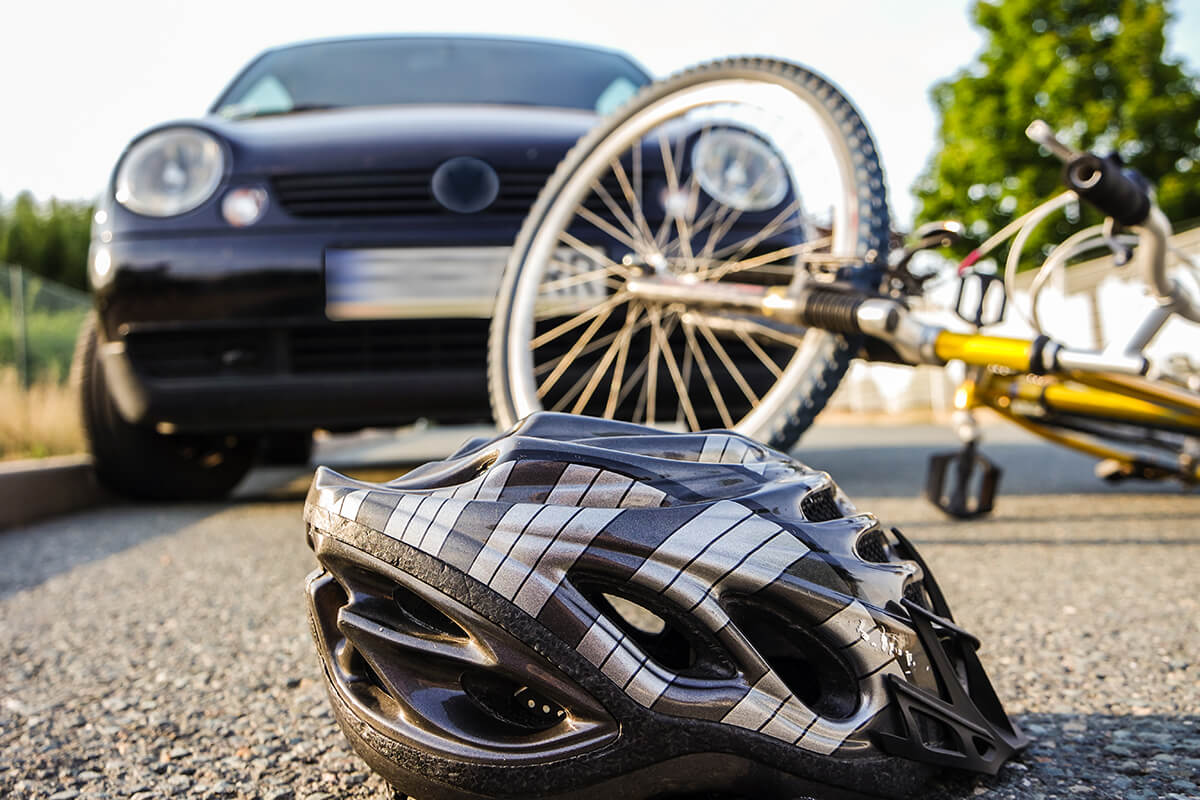 Pedestrian Accidents
As just one data point, in 2013 there were 1,028 pedestrian injuries (including 54 fatalities) in San Diego County.  In most, the injured person was crossing the street when hit by the front of the motor vehicle as a result of the driver being distracted or drowsy, speeding, not signaling, failing to yield, or failing to obey traffic signs (including reduced speed in school zones).  Common injuries include cuts and scars, fractures, head trauma, and paralysis.
A pedestrian is physically unprotected so they always have the right of way, even a jaywalker.  The injured victim may bear some liability for comparative negligence, but even so, still has the right to compensation for injuries sustained in the automobile vs. pedestrian collision.  It takes a skilled pedestrian accident lawyer to establish and prove the negligence of the car driver and to keep the focus of the scrutiny for negligence on the negligent driver, rather than the injured pedestrian.
Bicycle Accidents
The National Highway Traffic Safety Administration data shows that fatalities are twice as likely for someone in a bicycle accident versus a passenger or driver in a motor vehicle accident.  Over the last several decades, the average age for an injured cyclist rose from 24 to 43, although injuries are most common for those between the ages of 15-19.
The most common accidents include the motorists sideswiping or hitting the cyclist from the rear, turning right and into a cyclist in the bike lane or on the shoulder, turning left in front of an oncoming cyclist, and opening a car door without checking.  In some worst-case scenarios, the cyclist is thrown over the handle bars and may sustain a traumatic brain injury even when wearing a helmet.  Other serious injuries include fractures and damage to the back, spinal cord, jaw, teeth, and eyes.  Other types of bicyclist injury cases involve injuries sustained as a result of potholes or debris in the path of the bicyclist or bicycle mechanical failures.
Only a bicycle accident lawyer has the experience necessary to understand the "physics" of bicycle accidents, the potential and full extent of injuries, and the special situations concerning liability.
What to Do
Of course, your top priority is getting immediate medical care for your injuries.  Below are some tips and suggestions following a bicycle versus vehicle or pedestrian versus vehicle collision.  This list is only a partial summary — a personal injury accident attorney should be contacted as soon as possible for information and guidance.
You or a witness should call 911 and not leave until medical help or a police officer arrives.
Assume the worst if there's a possibility of a head injury or if it's painful, difficult, or impossible to move any part of your body.
Call the police and report your story.
Do not discuss liability or negotiate compensation with the driver.
Contact a personal injury lawyer before speaking to any insurance company beyond reporting that an accident occurred.
As soon as possible make detailed notes, write down witnesses contact information, and take photographs.  It's helpful to return to the scene later if this can't be done immediately.
Keep the clothes the victim was wearing unwashed and don't have the bicycle repaired until your attorney says it's OK to do so.
Keep records of all diagnoses, treatment, bills, stresses, problems, and concerns.
Having the training, expertise, and experience of an accident attorney will assure that all the proper steps are taken to preserve your rights to full and proper compensation.  Your experienced bicycle accident lawyer will:
evaluate and discuss your case,
investigate the accident and interview witnesses,
collect and review medical records and police reports,
establish all costs and losses (such as medical expenses, prescriptions, lost wages, pain and suffering),
assess liability and options for compensation (such as the driver, the driver's employer, road construction crews, etc.,),
negotiate with insurance companies, and
file a lawsuit if necessary.
WE FIGHT TO WIN FOR YOU
OUR RESULTS
Attorney Suzanne Skolnick achieved a $6,000,000 settlement with the County of Riverside for her 66 year-old client who sustained a catastrophic brain injury.
Our Recent Wins
Featured Case Results
BRAIN INJURY SETTLEMENT
Contact the Skolnick Law Group Now for Superior Personal Injury Representation!
At our law firm, you'll always work one-on-one with a compassionate and experienced personal injury lawyer, never a paralegal assistant.  We provide injury and accident help in Oceanside, Carlsbad, Encinitas, Escondido, San Marcos, Vista, and throughout northern San Diego County.  We'll be happy to provide a free case review.  Experienced accident attorneys will answer your questions and provide you with the information you need in order to pursue an injury claim.  We get paid nothing unless we win your case.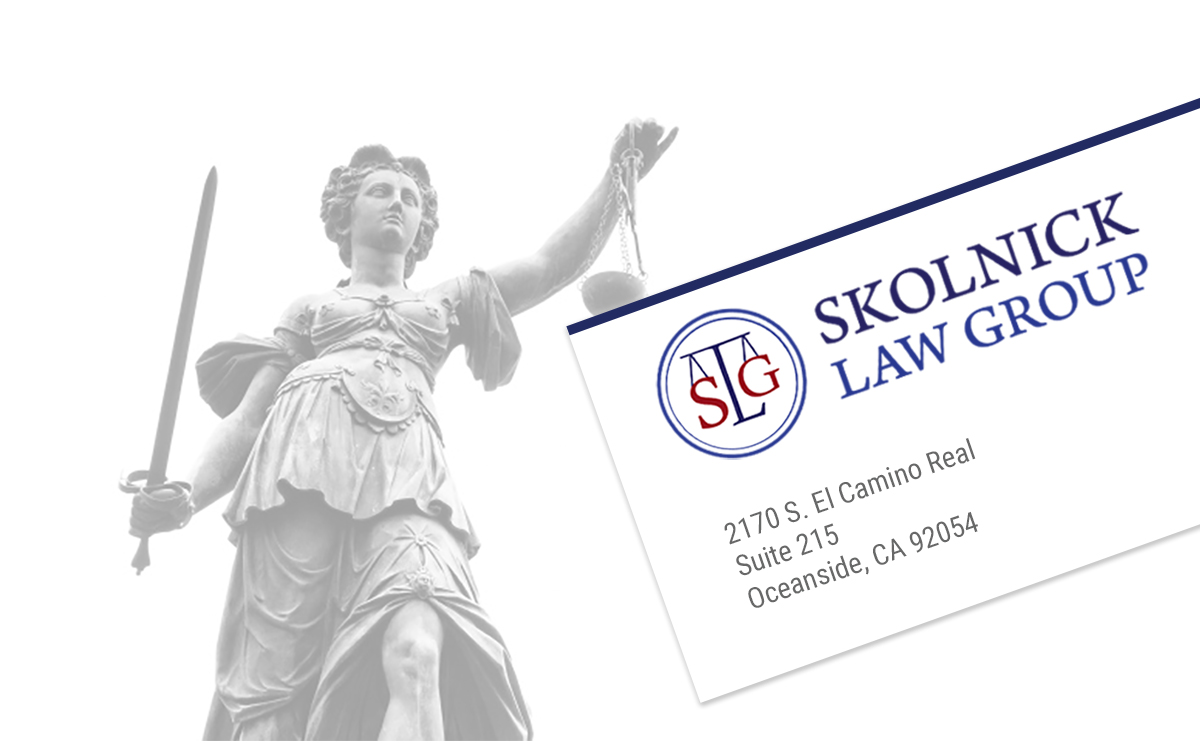 Request a free consultation to get started.