TRULY CLIENT FOCUSED REPRESENTATION
Aggressively fighting for the maximum recovery of victims injured in all manner of accidents.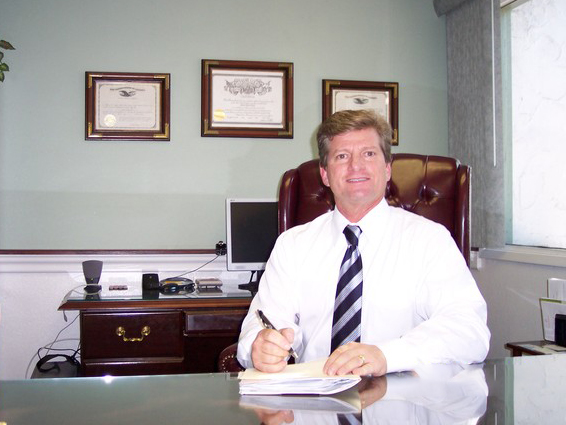 Personal Injury Lawyer
ATTORNEY RUSSELL S. KOHN (Of Counsel)
Mr. Kohn is a lawyer for people, and does not represent businesses, corporations or insurance companies. He enjoys the personal and professional satisfactions that comes from helping injured people obtain full and fair compensation. He is a lawyer who empathizes with this clients, and takes the time to understand the unique effects of the injuries to the specific lifestyle of each client.
As an attorney for people, Mr. Kohn is attentive and responsive to his clients. Each client's case is personally handled by him, rather than by paralegals or office staff. He believes that a successful resolution of a case is only achieved if the client is satisfied with the result. He also believes that a satisfied client is one who is fully informed about the applicable law, facts, and available options. For this reason, Mr. Kohn is always accessible to his clients by phone and office visits. He is trustworthy, experienced, and aggressive.
Attorney Russell S. Kohn attended the University of Arizona in Tucson, Arizona where he obtained his Bachelor's Degree in accounting in 1981 and his Juris Doctor Degree in 1984. He was admitted to practice law in Arizona in 1984 and in California in 1985.
The experience and integrity he brings to each case has earned Mr. Kohn extensive recognition among his peers, including the distinction of being among the top 5% of attorneys endorsed by Super Lawyers® Magazine for the past several years due to outstanding achievement. He was also elected by his peers as President of the Bar Association of Northern San Diego County for 2004, and was thereafter elected to a three-year term as a director of the San Diego County Bar Association in 2005.
For many years, Russell Kohn has had the distinction and privilege of acting as a temporary judge for the San Diego Superior Court presiding over personal injury settlement conferences, as well as small claims and traffic court cases. As of November 2015, he has been honored to be appointed to serve on the Board of Directors of the North County Bar Association's Lawyer Referral Service Program. In this position, he is able to advance public access to the judicial system.
Attorney Kohn's professional associations and memberships include:
State Bar of California, Member
State Bar of Arizona, Member (presently inactive)
Consumer Attorneys of California, Member
Consumer Attorneys of San Diego, Member
San Diego County Bar Association, Director, 2006 – 2008
Bar Association of Northern San Diego County, President, 2004;
Board of Directors, 2001 – 2003; Personal Injury Section, Chair, 1996 – 1998
San Diego County Superior Court, Arbitrator and Judge-Pro-Tem
Board of Directors of the North County Bar Association's Lawyer Referral Service Program
Excellence of Representation for All Accident Victims and Their Families
About Skolnick Law Group, Oceanside
Since its inception, the Skolnick Law Group has aggressively fought for the maximum recovery of victims injured in all manner of accidents. Attorney Suzanne Skolnick's civil litigation practice focuses on representing those injured in the following incidents: car accidents, truck accidents, motorcycle accidents, passenger motor vehicle accidents, pedestrian accidents, dog bite attacks, slip-and-fall and other premises liability claims, and traumatic brain injury. The Skolnick Law Group additionally represents the families of those killed due to the negligence of another through wrongful death lawsuits. While these are the most common lawsuits handled by the Skolnick Law Group, the firm also accepts cases involving other general forms of negligence.
Skolnick Law Group offers truly client-focused representation. Ms. Skolnick is always available to answer client questions or concerns, and devotes copious time and energy to developing the best means of achieving a full recovery for each and every client. Ms. Skolnick is here to help injured clients like you, so you can rest assured at Skolnick Law Group that your recovery is our top priority.

You Pay Nothing Unless Compensation is Recovered!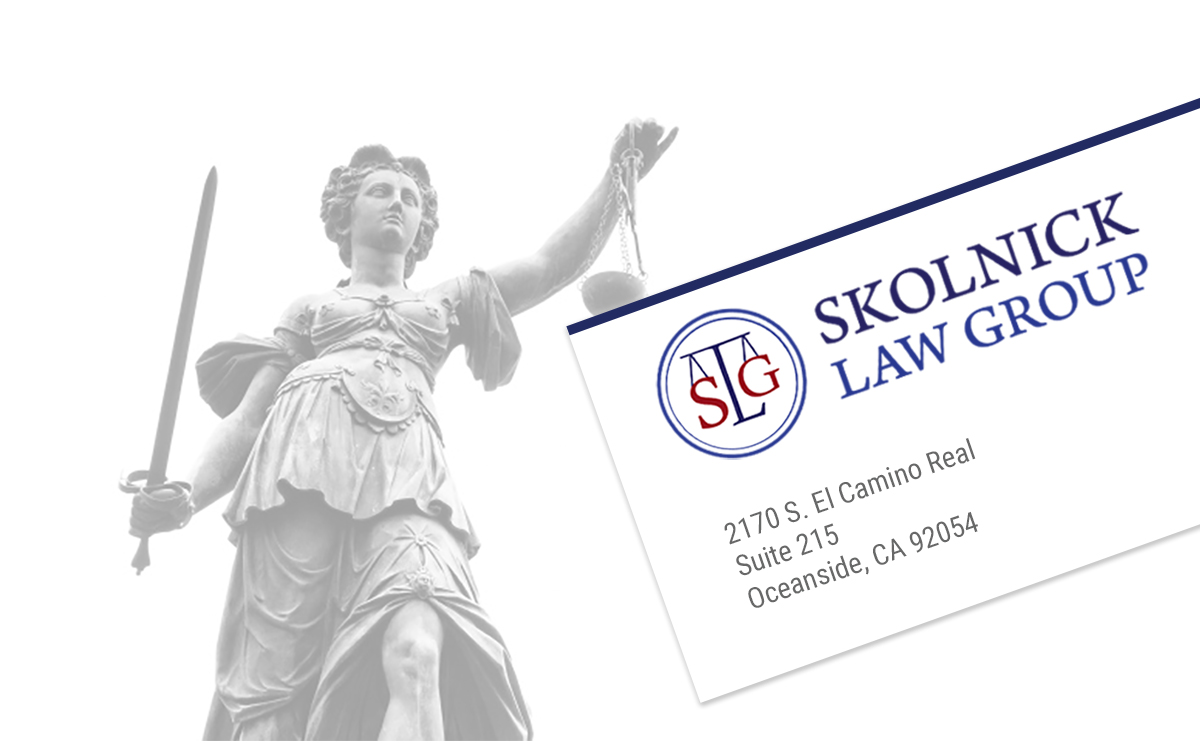 Contact the Skolnick Law Group Now for Personal Injury Representation
If you have been injured in an accident in California, it is very important that you speak with an attorney experienced in handling these types of cases. At the Skolnick Law Group, Attorney Suzanne Skolnick, will fight tirelessly for the compensation you deserve. She will also take the time necessary to answer all of your questions, guide you through the legal process, and assist you in making informed decisions about your case.

Skolnick Law Group focuses on clients in Carlsbad, Encinitas, Vista, Oceanside, San Marcos and throughout North County San Diego. To learn more about the firm's comprehensive legal services, contact us at (760) 585-7092, or, feel free to visit us online to schedule your free and completely confidential initial consultation. Evening and weekend appointments are available, and in-home visits can be arranged in the event you can't come to the firm's office. For the personal attention and comprehensive representation you deserve, contact Attorney Suzanne Skolnick of the Skolnick Law Group today.