ONE-ON-ONE ATTENTION
FROM A COMPASSIONATE
INJURY ATTORNEY
Never get handed off to paralegals.
All cases are handled by our experienced attorneys.
Millions of dollars recovered for our deserving clients!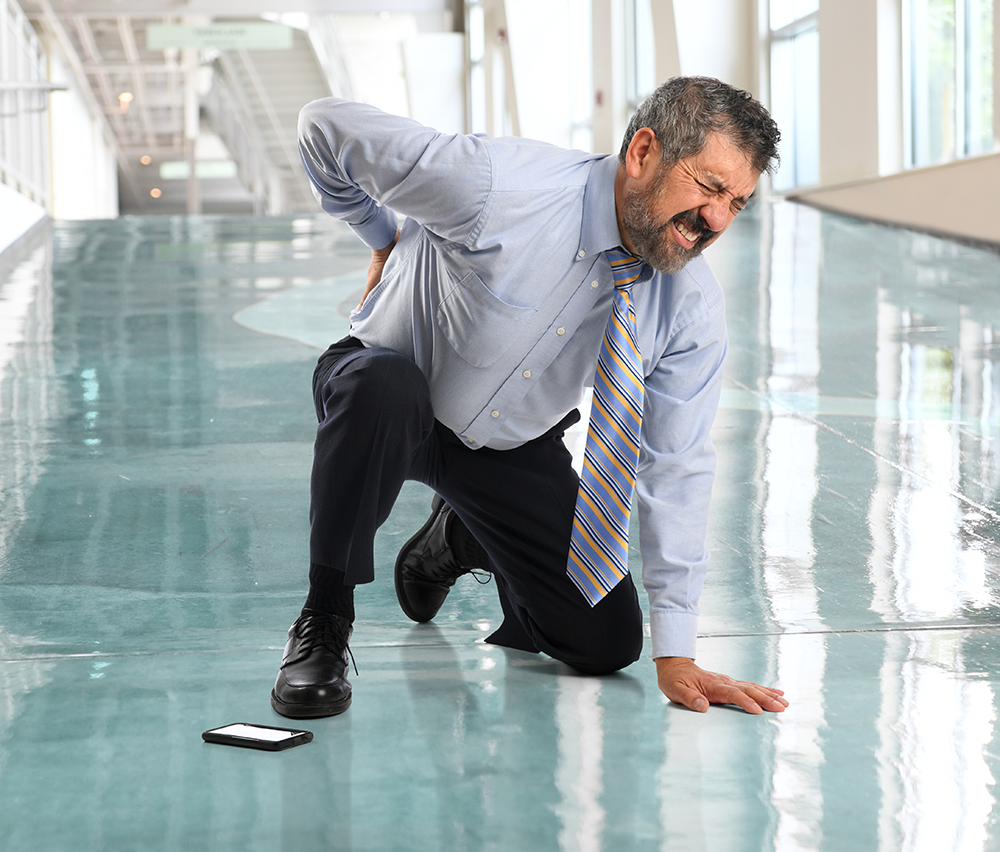 Slip & Fall Injury Lawyer in Oceanside/Carlsbad
Slip-and-Fall & Other Premises Liability Claims
If you've been injured in an accident on someone else's property you'll need to file a premises liability claim to recover compensation for your injuries as well as reimbursement of your medical expenses and lost earnings.  You shouldn't count on the insurance company to just roll over and pay your medical expenses.  Often, the opposite occurs and insurance companies dig in their heels and claim that they are not liable for your injuries.  Premises liability cases are typically fought by the insurance company on multiple fronts including:  denying there was a duty on their part that was breached; denying that your injuries were caused by the incident; denying that your injuries are not as significant as you claim them to be or claiming that you were at fault for the injury.  Premises liability cases involve trip and falls, slip and falls, injuries caused by dangerous conditions on the property including holes, low-hanging pipes and other unforeseen hazards.  Because insurance companies vigorously defend these cases, it is important to hire a skilled premises liability attorney who can protect your rights and fight for fair compensation for your injuries.  Many premises liability cases involve significant injuries including hospitalization, broken bones, permanent disability and staggering wage losses.  Our office can provide you with experienced advice and representation in your premises liability case and will maximize your damages recovery from the insurance company.
Our law practice protects your rights to a full recovery in a premises liability case.  We have cases involving individuals injured throughout Northern San Diego County including the cities of Oceanside, Carlsbad, Encinitas, Escondido, Vista and San Marcos.
Property-related injury claims may originate at any property serving the public (including government buildings, hospitals, and nursing homes) as well as any private property you don't own yourself.  They may be simple accidents, involve unattended or defective equipment, or be the result of assault and battery due to inadequate security.  Unique situations include amusement parks and swimming pools (where several safety devices are explicitly required, but may have been improperly maintained or even absent).
You Pay Nothing Unless Compensation is Recovered!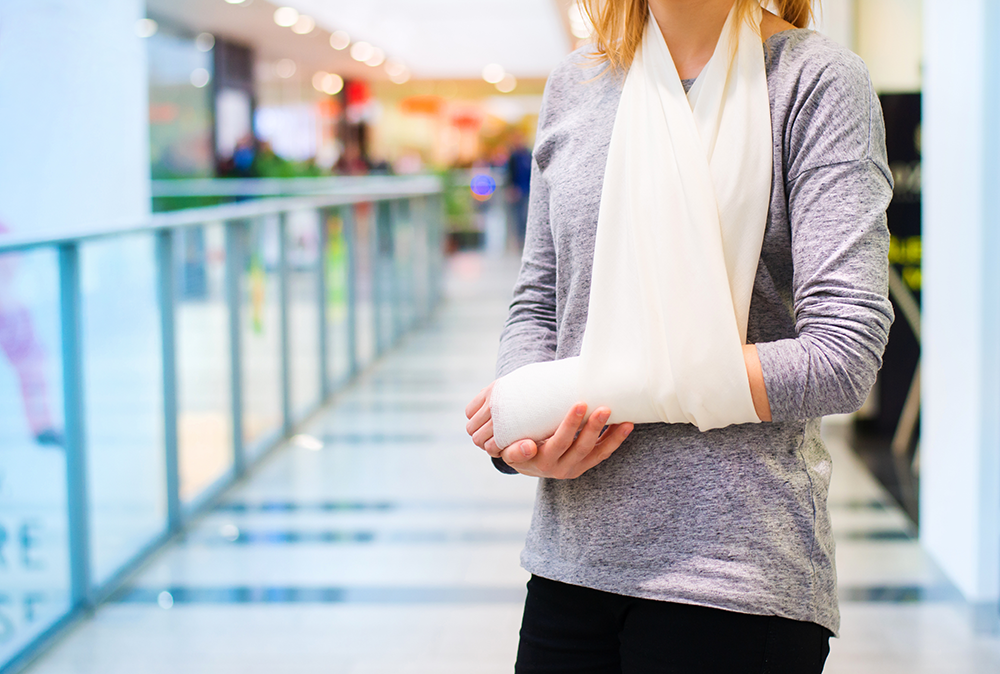 Slip and Fall Accidents
Slip and fall accidents are among the most common causes of personal injury.  In 2011 falls (including those at a person's own home) resulted in over 10,000 hospitalizations and nearly 300 deaths in San Diego alone.  Most often it's just sprains, bruises, and cuts, but sometimes there can be more serious injuries including broken bones, spinal cord or traumatic brain injury, and internal organ damage requiring emergency medical attention.
Liability lies with a property owner, business owner, or property possessor whenever an accident occurs as a result of negligence in maintaining or managing the property.  By failing to maintain or manage the property adequately, a property owner can let a dangerous or hazardous condition at the property exist which can then cause injury.  Dangerous conditions can include things like spills on the floor, unstable or loose flooring.  Other dangerous conditions that can lead to premises liability cases are potholes, uneven or obstructed walkways, poor indoor or outdoor lighting, and falling merchandise or fixtures.  Lack of appropriate warning signs, including wet-floor cones, also factor into determining who is at fault.
Representation for a Premises Liability Claim
In all cases but minor injuries on another person's property you should contact a premises liability attorney to protect your rights and assist you in obtaining full compensation for your injuries.  Damages that are recoverable for an injury occurring due to a dangerous condition of property include past and future medical expenses, past and future lost earnings, and past and future pain, suffering and inconvenience.
In establishing a slip and fall accident case or other premises liability case, only an attorney experienced in such cases can fully understand the many factors determining liability and fair compensation and be prepared for the insurance defense company's negotiation strategies and litigation tricks.  Important factors in these types of cases are often how long a dangerous condition existed and whether the owner or merchant was notified of the condition prior to the incident.  Additionally, the frequency of the property owner's inspections and whether the injured victim was acting carelessly or inappropriately, also play a part in determining whether liability for the dangerous condition exists.  Frequently, principles of comparative fault of the plaintiff are often involved in premises liability cases.
Therefore, only a skilled premises liability lawyer can properly handle a liability claim to get you the care and compensation you deserve.  The insurance company and premises owner have lawyers working hard on their side and so should you!
WE FIGHT TO WIN FOR YOU
OUR RESULTS
Russell S. Kohn and Suzanne Skolnick Attorneys Kohn and Skolnick represented a 60-year-old man in an under insured motorist claim against Farmers. After reduction for the worker's compensation benefits and the third party recovery, Judge Hoffman's net award totaled $520,000.
Our Recent Wins
Featured Case Results
UNDERINSURED MOTORIST
Take Quick Action
Generally speaking, the lawsuit in most premises liability cases must be filed within two years from the date of injury.  However, certain exceptions to this rule apply. For example, if the property is owned by a government entity (i.e., an incident occurring on public school grounds) then there are much shorter deadlines, including a 6- month claims presentation requirement.  For these reasons, speaking with an experienced premises liability lawyer promptly after the injury is very important so that the attorney can assist you in determining the deadline for filing your claim.  Here is a brief summary of the actions an injured party should take without delay.
Report the accident to the manager, owner, or their representative.
Promptly make detailed notes of what happened, the surrounding circumstances, a list of witnesses and a description of your injuries and initial symptoms.  Photographs can be an important part of establishing your injuries and their exact cause.
Go to an urgent care clinic or emergency room immediately.
If you can't take care of these yourself due to your injuries, have a trusted family member or friend do so on your behalf.
The Skolnick Law Group
Our law office in Oceanside/Carlsbad, serves San Marcos, Escondido, Encinitas, Oceanside, Carlsbad and Vista and all of North County San Diego.  We specialize in personal injury law, and are experienced in slip and fall accidents along with other premises liability claims.
You'll always receive personal attention from a personal-injury attorney with a proven track record, never passed along to a paralegal.  We are dedicated to excellence in representation and advocating for justice to the injured and their families.  You can call us for a free consultation.  We'll learn about your accident and then be happy to answer questions, outline the legal process, and help you make informed decisions about your case.  We work on a contingency fee basis and therefore, there's no payment unless you receive compensation for your injuries.
Request a free consultation to get started.