ONE-ON-ONE ATTENTION
FROM A COMPASSIONATE
INJURY ATTORNEY
Never get handed off to paralegals.
All cases are handled by our experienced attorneys.
Millions of dollars recovered for our deserving clients!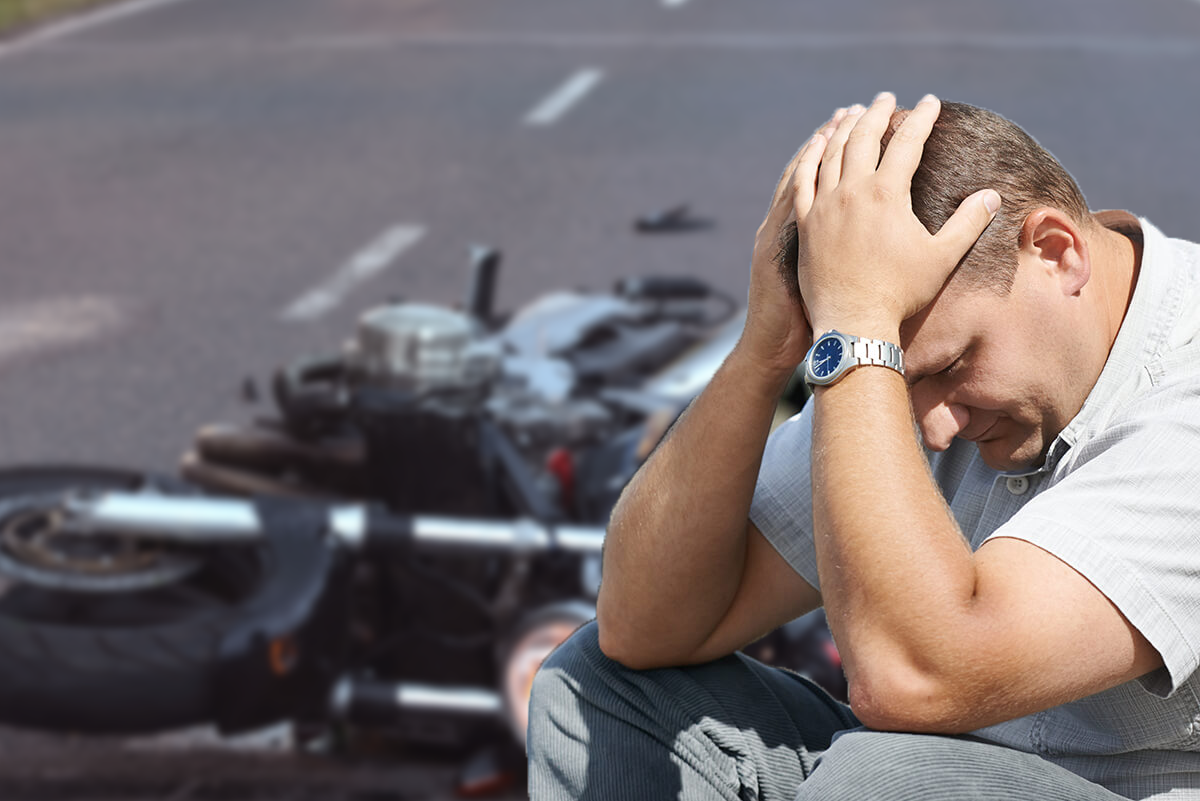 Motorcycle Accident Injury Lawyer in Oceanside/Carlsbad
Motorcycle Accident Attorney
Just like anyone who drives a car, nearly every motorcycle rider eventually has an accident.  Unfortunately with motorcycles, just about every accident involves injury, and serious injuries in nearly half the cases.  The National Highway Traffic Safety Administration reports some 100,000 motorcycle accidents in the United States each year, some 4,000 of which are fatal.  Given the potentially very high damages involved in a motorcycle injury case, you need an experienced motorcycle accident lawyer to make sure you're fully and fairly compensated.  Remember, insurance adjusters and agents work for their company not you.  We are experienced motorcycle accident attorneys practicing in North San Diego County, including Escondido, San Marcos, Encinitas, Oceanside, Vista and Carlsbad.
There's a stereotype that bikers are adventurous and aggressive, perhaps even reckless, and those biases even make it into the courtroom.  But we know that's just not true in most cases.  One of the most common causes of motorcycle accidents is car and truck drivers simply not noticing the biker.  They also often don't understand how a motorcycle handles, causing the rider to lose control when cars cut in front or a rider at too close a distance.  Without the protection of a vehicle frame, even low-speed accidents can lead to broken bones, cuts and abrasions, spinal cord, brain, neck, and back injuries.
All this means you need not just a personal injury lawyer to recognize all the damages involved, but one who is an experienced motorcycle accident attorney as well.
You Pay Nothing Unless Compensation is Recovered!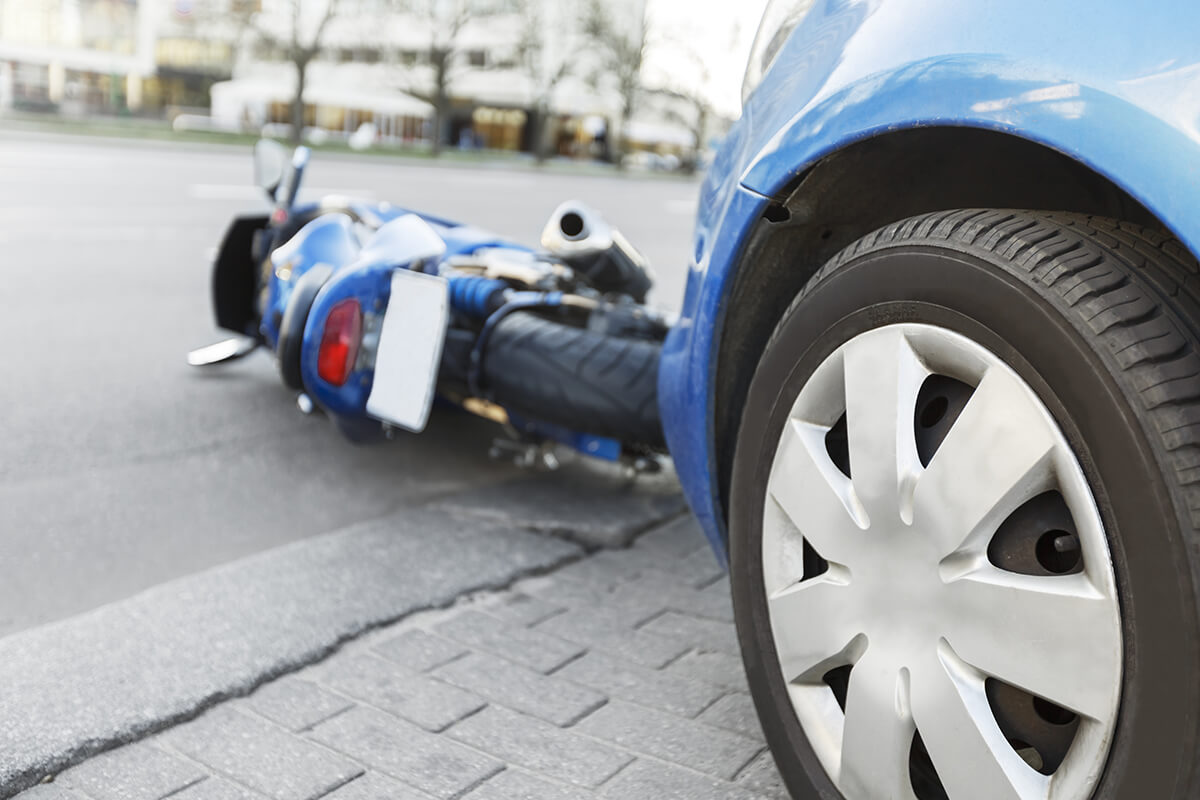 Your Rights to Compensation
Retaining a motorcycle accident lawyer helps assure your legal rights to compensation by an insurance company even if you're partially at fault.  Insurance companies will often defend cases by claiming that the motorcycle rider was at fault for the collision and refuse to reasonably apportion the fault of their own insured as against the injured motorcycle rider victim.  However, California law does not foreclose recovery of damages when the injured victim is partially at fault.  Instead, California operates under a comparative fault system.  Thus, an injured motorcycle rider can still recover monetary compensation for his or her injuries due to a collision caused by a negligent driver even if the motorcycle rider may also be partially at fault for the collision.
There can be many costs involved in motorcycle collision cases besides medical treatment and repairing or replacing your bike.  Those damages include past and future lost wages as well as pain and suffering.  In any motorcycle accident injury case, it is important to speak with a lawyer to determine the full nature and extent of your damages.  Your attorney can provide you with advice and representation on how to obtain the maximum available recovery in your case in order to ensure fair compensation to you for your injuries
After a Motorcycle Accident
Determining liability on motorcycle collisions can be difficult, especially with complex highway, traffic, and vehicle laws.  The insurance company has its own interests to protect, so don't leave everything up to them.  You need an experienced motorcycle collision attorney to look out for your best interests.  Below are a few tips and suggestions to follow if you've been injured in a motorcycle accident.
After any accident causing injuries, not just motorcycle collisions, the police must be called.  You should be sure and get a copy of the police report once it is ready.  Even if it's unfavorable to you it still contains facts critical in pursuing your case.
See a doctor as soon as possible.  If you don't, there will be an assumption that you weren't hurt.  Besides, sometimes symptoms don't become obvious for hours or days whereas early treatment is almost always more effective in treating injuries.
Notify your own insurer of the incident, and provide the basic facts your insurer requires in order to investigate the collision including: the location, time, and date of the incident, along with the vehicles involved, drivers' names and addresses, and the identity of any witnesses involved.
Collect and write down every detail that comes to mind, and take photos of the scene and of your injuries if at all possible.
Get legal advice, even if you don't expect to pursue a lawsuit.
Motorcycle accident lawyers know exactly what to do to make sure that your rights are protected and your medical bills are taken care of.  They'll work to maximize your compensation for a fair settlement or to persuade the jury at trial to award damages in an amount that fairly compensates you for all of the harm you have endured from the incident.
Good News, Bad News
Here's some good news.  Thanks to California's Fair Claims Settlement Practices Act your insurance company must respond within 40 days of when you filed a claim.  The bad news is that if you accept settlement and payment or sign a release, that's final.  There's no do overs and it's essentially impossible to get further compensation.
WE FIGHT TO WIN FOR YOU
OUR RESULTS
Attorney Suzanne Skolnick achieved a $6,000,000 settlement with the County of Riverside for her 66 year-old client who sustained a catastrophic brain injury.
Our Recent Wins
Featured Case Results
UNDERINSURED MOTORIST
Skolnick Law Group
Our law office focuses on taking every necessary step to maximize your recovery.  Beginning with a free consultation followed by investigation and a careful assessment of the case, we'll take proactive steps that are designed to ensure that all of your damages are presented to the insurance company in the most persuasive manner possible.  We also assist motorcycle riders who have been injured in finding the appropriate healthcare practitioner needed to diagnose and treat the injuries and who can provide expert witness testimony for the case.  We negotiate settlements on your behalf, or proceed to litigation when necessary.  There's no fee unless we win your case.
Our firm serves Oceanside, Carlsbad, Encinitas, San Marcos, Vista, Escondido and nearby areas.  As dedicated personal injury lawyers, we don't just run through standardized procedures.  You'll always deal directly with an experienced motorcycle accident attorney, and will never be just passed along to a paralegal.
With 20 years of experience, Attorney Suzanne Skolnick is client focused and always ready to answer questions and listen to your concerns.  She's a member of the North County Bar Association, Consumer Attorneys of San Diego, and Lawyers Club of San Diego. Ms. Skolnick practices primarily in the North County branch of the San Diego County Superior Court located in Vista, California, but also prosecutes cases throughout San Diego County and before the federal courts in the United States District Courts for the Southern District of California, Eastern District of California, Central District of California and Northern District of California.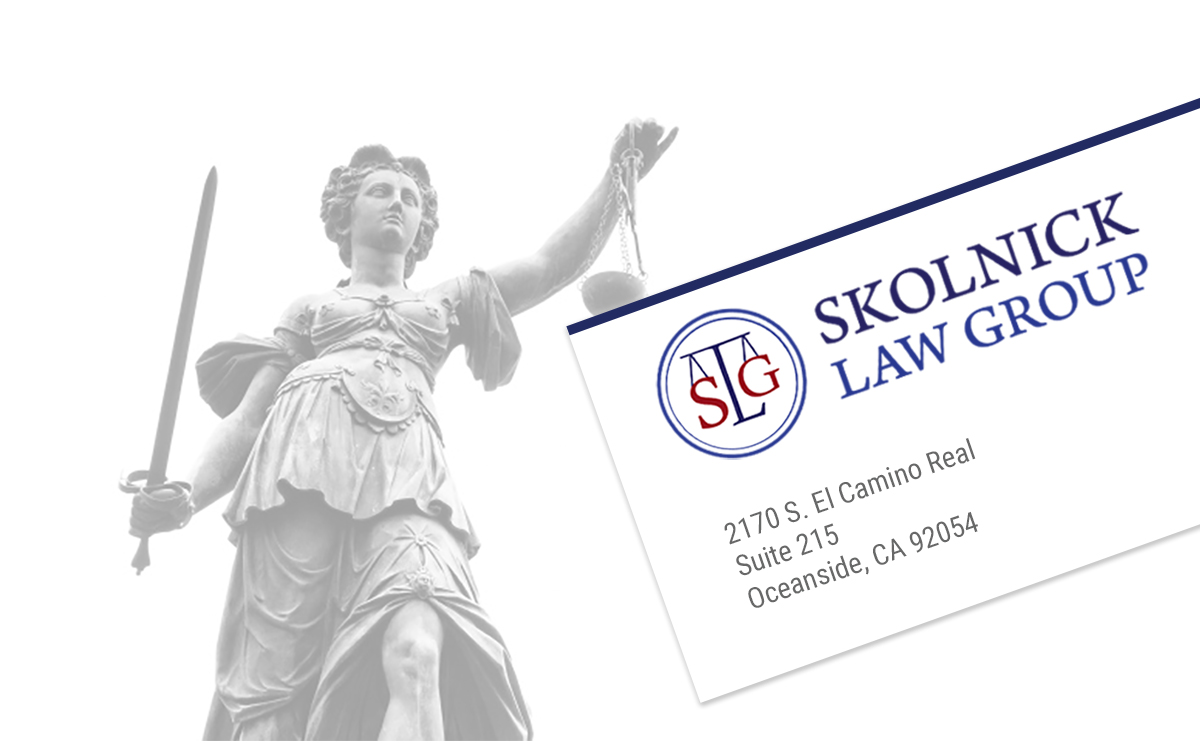 Request a free consultation to get started.